The Palm Reader's Debut
Well, the anti-Palm Beach Post person has come forward, with an example of allegedly bad journalism from the paper up North. The source says that
this story
about Scripps from Post reporter Thomas R. Collins is nothing but a piece of biowaste. The source, who we'll c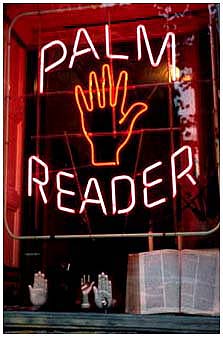 ode-name "Palm Reader," says this about the article: "The thing I found particularly bad about this story is that it seems to push a management agenda -- it's not in the Post's interest to have Scripps in Boca, because they long ago ceded Boca coverage to the Sentinel, and Jupiter (the other horse in the Scripps race) is in their backyard. The Sentinel doesn't care either way, since they're looking to follow Scripps to grow circulation."
Well, I suppose you can guess where Palm Reader is coming from. But it's definitely an interesting take -- and the Pulp is a sucker for a good dust-up.
Story of the Day
Nice report
by Susannah A. Nesmith in the Herald today about a bunch of school employees -- including some teachers -- in Broward and Miami-Dade who were involved in a grade-fixing scandal at Florida Memorial University. I love ironic shit like that. But the story of the day goes to the Sun Sentinel for the tag-team coverage by
Jon Burstein
and
Mike Mayo
of the freeing of Broward lawyer Adam Katz. Katz was the poor fellow -- and father of six children -- who was sentenced to 60 days in jail by Broward's Chief Prig, Circuit Judge Cheryl Aleman. It's official: We all just have to hate this bitch.